Materials
At Robert Giede Design we are experienced with a wide variety of materials that we can utilize to create the perfect piece for you. The designs we create are enhanced by using only the highest quality metals and gemstones. We can also utilize your own reclaimed materials if you wish.
Metals
We work with various karats of yellow gold, white gold, rose gold, and peach gold. Platinum, palladium, and sterling silver are also options. There are a variety of finishes, everything from a mirror polish to a sandblasted finish. This results in many options to suit a variety of styles.

We are an authorized retailer of Hoover & Strong Harmony metals, an eco-friendly refiner and manufacturer of 100% recycled precious metals.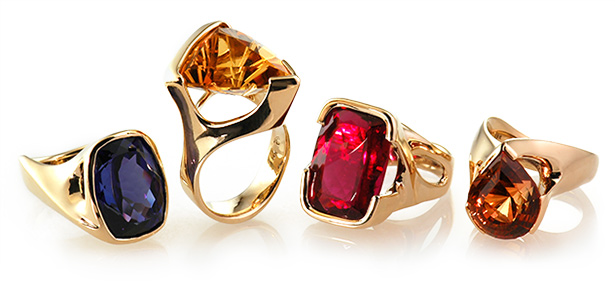 Gemstones
Robert Giede Design works closely with miners and gem cutters from all over the world. This has brought our clientele some of the most unique and unusual gems, making each piece truly special. We carry one of the finest colored and rare gemstone collections in the Midwest with countless gems to choose from. Gemstones are available in every color of the rainbow, in all standard cuts and many fancy shapes.

We offer diamonds that are conflict-free from sources that are full participants in the Kimberley Process Certification System. We also carry a selection of Canadian and Australian diamonds. The diamonds we stock are strictly graded using the GIA International grading system. GIA is a public benefit, nonprofit institute, and the world's foremost authority on diamonds in the gem industry.
Old gold made new
We pride ourselves on helping our clients create the jewelry of their dreams. Often this involves reusing the client's metal and gems from pieces they already own and transforming them into a new creation. We can complement the materials from your old jewelry with in-house materials, as well as reset existing and heirloom stones. There are many benefits in reusing your own materials, the three most common are:
Sentimental
Create a keepsake design with inherited treasures.
Ecological
Participate in the global effort to preserve our planet by recycling your old materials.
Financial
Save your money by reusing already-owned jewelry.